Tornadoes destroy things. Tornadoes destroy lives, property, and valuables. Naturally in life, there are some things that are much more important to us than others and we need to make sure that these things are suitably protected. I'm not talking about our children and loved ones — that'll be covered on plenty of the other pages — but I'm talking about important items that you might have in your home.
How to Protect Important Items from a Tornado
There is a perfectly simple and effective way to protect your papers, bits and bobs from the tornado: store them in a waterproof container or re-sealable plastic bag. What should be included?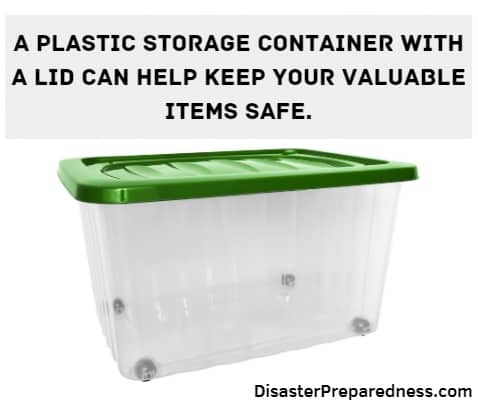 Photocopy or list of important numbers
Address book and family contact details
Local telephone directory (make sure it's current!)
Contact details for insurance agents (your gonna need 'em)
Insurance policies
Inventory of your possessions (make a list, or better yet take insurance photographs before the tornado hits)
Check Books
Birth Certificates
Credit Card Details
Bank Account Details
Mortgage Details
Deeds to Property
Passports
Emergency Cash (because ATMs might be out-of-order for a while)
Special Photographs (they really are irreplaceable)
So, the next time you've got a spare hour or so, sort out all of the above and pop them safely into a waterproof container or plastic bag. You'll be so glad you did in case of a tornado emergency.
Consider purchasing the following items to help keep your stuff safe during a tornado: