First Things First – Direct Links to Coronavirus News
Click for the latest Coronavirus news directly from Fox News, CNN, ABC News, CBS News, BBC News, NBC News, NPR News, USA Today.
In case of a quarantine for Coronavirus-2019 (COVID-19), it's important to be prepared and to have what you need before you need it. Use our checklist and links below to make sure you and your family have everything needed in case of a quarantine. Has the coronavirus come to your state? Click here to find out! 
Home Safety Kit Checklist for Coronavirus (COVID-19)
✔ Hand Sanitizer & Cleaning Wipes
✔ Cold & Flu Medications
✔ Food Supplies
✔ Water & Liquids
✔ Face Masks
✔ Gloves
Hand Sanitizer & Cleaning Wipes
Alcohol-based hand sanitizer is imperative, even before anyone in your home is sick. Preventative measures are always better than reactive ones — that is, it's better not to get sick in the first place. The Environmental Protection Agency has also released a list of approved disinfectants for COVID-19. The list includes a number of Clorox and Lysol cleaning products.
One-step cleaner disinfectant that is ready to use.
Effective against outbreak-causing viruses such as influenza A, influenza B, and norovirus.
Suitable for use on spills and larger areas, making it an ideal professional bleach cleaner.
Recommended for use in healthcare settings, including hospitals, medical facilities, dental offices, veterinary offices, and long-term care facilities.
50 masks in total.
Made with a 3-layer non-woven, non-latex fabric for effective protection.
Soft, non-irritating, comfortable, and breathable.
Adjustable earloop and nose clip that fits most faces.
Ideal for various environments such as home, office, school, gardening, construction, and other public areas.
Disposable and recommended for one-time use only.
100% free of latex, rubber, powder, and protein for skin-friendly use.
Excellent quality durable Nitripride vinyl-nitrile blend gloves for extra strength and comfort.
Ambidextrous design with bulk value of 100 gloves for easy use and storage.
Endless uses for medical professionals and beyond, including cooking, painting, cleaning, and more.
Cold & Flu Medications
COVID-19 has many of the same symptoms of a cold or a flu. Thus, it's important to have a stock of some cold and flu medications before you have a sore throat and cough.
Food Supplies
If you and your family are quarantined, it's worth having an emergency food supply. In fact, it's good to have an emergency food supply in case of other disasters like earthquakes, hurricanes, and tornadoes. 
If you aren't looking for a disaster food package, make sure you are stocked up on canned goods as they have a longer shelf life than fresh produce and meat.
Frozen and Canned Vegetables: Canned and frozen vegetables are best as they tend to last longer than fresh vegetables in case of a quarantine.
Frozen and Canned Fruits: Like vegetables, frozen and canned fruits last much longer than fresh fruits. If your diet plan allows you fruit, consider stocking up on some of the following:
Strawberries
Blueberries
Pineapple
Pears
Apples
Cherries
Beans: Canned and dried beans are easy to make and relatively cheap, making them easier on the wallet.
Nuts and Nut Butters: A great source of protein and fat are nuts and nut butters. They don't need to be refrigerated and can last a long while on the shelf.
Whole Grains: Grains half a relatively long shelf-life and can be cooked whenever you're having a hankering for pasta.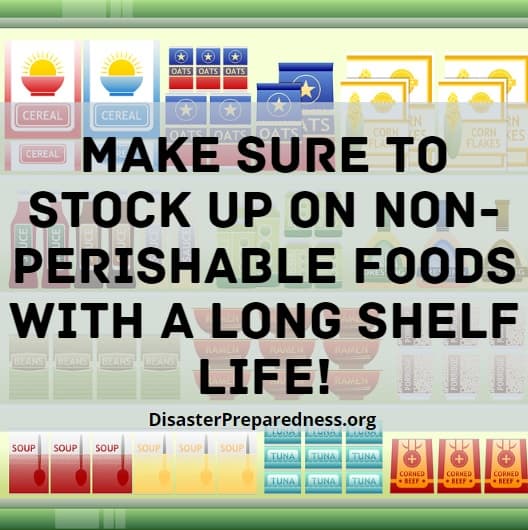 Soups: Having soup in your pantry is probably normal for many people but it can be even more important in case of a quarantine. After all, if you get sick you might get a hankering for chicken noodle soup!
Oils and Sauces: If you use oils to cook or season food, consider purchasing an extra bottle or two in case you have to stay home for a while. Additionally many people like having sauces to flavor their food so make sure you have your favorite sauce!
Olive Oil
Tzatziki Sauce
Curry Paste
Spices: Let's be honest… Sometimes those canned foods are just not as good as their fresh alternatives. Spices can help up the flavor factor!
Garlic
Rosemary
Paprika
Salt
Pepper
Cinnamon
Lemon Pepper
Long-Lasting Foods: If you're worried about the pandemic lasting for more than a few weeks, consider the following food items which have a longer shelf-life.
Bulk Dried Beans
Bulk Wild Rice
Bulk Peanut Butter
Beef Jerky
Dried Mangoes
Canned Tuna
Water & Liquids
Keeping a package of bottled water or a couple gallons of water on-hand is always a good idea, regardless if you're under a quarantine or not. You may also want to consider other liquids like Gatorade, Pedialyte, or other rehydration items. 
Face Masks
The CDC now recommends that everyone wear face masks in order to prevent the spread of COVID-19.
Gloves
You may or may not find yourself needing gloves in case of an emergency quarantine, especially if you're caring for one of your sick family members who is infected with COVID-19. For this reason, it's best to wear gloves while interacting with them to help stop the spread of infection.