Earthquake Food Supplies
If an earthquake hits your city or state, it's important to have the necessary food supplies to feed yourself and your family. Here are some long shelf life options that you should consider:
Long-Lasting Foods for After an Earthquake
Frozen and Canned Vegetables: Canned and frozen vegetables are best as they tend to last longer than fresh vegetables.
Frozen and Canned Fruits: Like vegetables, frozen and canned fruits last much longer than fresh fruits.
Strawberries
Blueberries
Pineapple
Pears
Apples
Cherries
Beans: Canned and dried beans are easy to make and relatively cheap, making them easier on the wallet.
Nuts and Nut Butters: A great source of protein and fat are nuts and nut butters. They don't need to be refrigerated and can last a long while on the shelf.
Whole Grains: Grains half a relatively long shelf-life and can be cooked whenever you're having a hankering for pasta.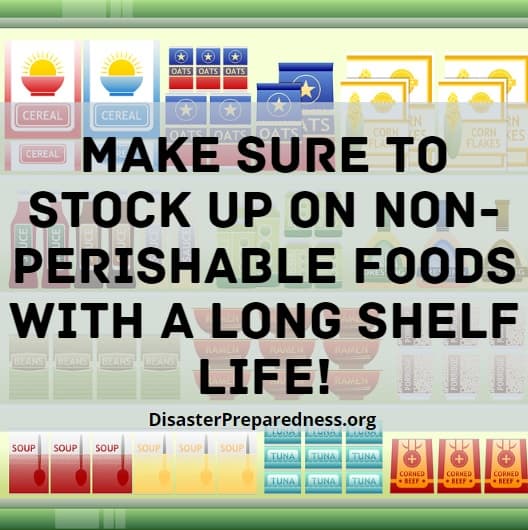 Soups: Having soup in your pantry is probably normal for many people but it can be even more important in case of a quarantine. After all, if you get sick you might get a hankering for chicken noodle soup!
Oils and Sauces: If you use oils to cook or season food, consider purchasing an extra bottle or two in case you have to stay home for a while. Additionally many people like having sauces to flavor their food so make sure you have your favorite sauce!
Olive Oil
Tzatziki Sauce
Curry Paste
Spices: Let's be honest… Sometimes those canned foods are just not as good as their fresh alternatives. Spices can help up the flavor factor!
Garlic
Rosemary
Paprika
Salt
Pepper
Cinnamon
Lemon Pepper
Long-Lasting Foods: If you're worried about the pandemic lasting for more than a few weeks, consider the following food items which have a longer shelf-life.
Bulk Dried Beans
Bulk Wild Rice
Bulk Peanut Butter
Beef Jerky
Dried Mangoes
Canned Tuna
Water & Liquids: Keeping a package of bottled water or a couple gallons of water on-hand is always a good idea, regardless if there's a current disaster or not. You may also want to consider other liquids like Gatorade, Pedialyte, or other rehydration items.