Do You Need Tornado Insurance?
Tornadoes are something that many people have never experienced. If you're in the market for a new policy, it's important to know what your options are.
The more we learn about tornadoes and their devastating effects, the more likely we'll be prepared when one does hit our area.
What is Tornado Insurance?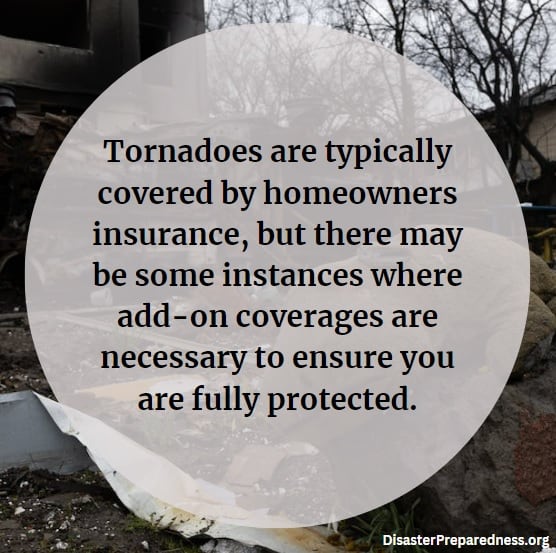 Tornado insurance is a type of insurance that helps cover losses from damage caused by tornadoes. Coverage amounts may be determined by the limits you have agreed to in your tornado insurance policy.
Do I Need Tornado Insurance?
Tornadoes are typically covered by homeowners insurance, but there may be some instances where add-on coverages are necessary to ensure you are fully protected. It's important to review your policy and speak with your agent to determine if you have the coverage you need.
Our guide to storm and catastrophe damage coverage can help you learn more about what homeowners insurance covers and what additional coverages may be necessary.
Consider purchasing the following items to help keep your family safe during a tornado:
Stay Warm
Get prepared for emergencies with the Swiss Safe Emergency Blanket set. Each package includes four dual-sided aluminized mylar blankets in silver, as well as a bonus gold space blanket.
Power
This combo-pack includes 100 AA and 100 AAA super alkaline batteries, delivering long-lasting power with 1.5 volts.
Illumination
The flashlight features a ribbed design that provides a secure grip. Using advanced LED technology, it can provide up to 5 times brighter illumination than ordinary flashlights.
How Much Does Tornado Insurance Cost?
The average cost for tornado insurance varies by state. Your premium will vary widely depending on your home, location, claims history, and coverage limits. If you're a homeowner, adding windstorm, flood, or loss of use coverage will increase your insurance costs. Renters insurance can be cheaper and help cover damage from tornadoes.
Does My Homeowners Insurance Policy Cover Tornado Damage?
Homeowners insurance covers damage to your home and personal belongings caused by wind, rain, and fallen trees during a tornado. However, flooding during a tornado would not be covered by homeowners insurance. Coverage usually falls under one of these four sections of your policy: Dwelling coverage, personal property coverage, liability coverage, and accident coverage.
Dwelling coverage protects your home, appliances, and systems. Personal property coverage protects your belongings, up to a certain value. Your home should be insured at its replacement cost value. Loss of use coverage covers expenses to live elsewhere while your home is being rebuilt. Homeowners insurance may pay for you to live somewhere else if your home is destroyed by a tornado.
In summary, homeowners insurance can cover damage caused by a tornado but doesn't cover flooding that could occur during one. It's important to know what your policy covers so that you can be prepared in the event of a disaster.
Does Car Insurance Cover Tornado Damage? What About Flooding?
Tornadoes can damage your car and coverage can help cover the costs. There are a variety of optional coverage that you can consider, such as gap insurance. Tornadoes can be devastating and can damage your car, potentially resulting in a totaled car. Rental reimbursement insurance helps cover costs when your car is in the shop or is totaled. Rental reimbursement insurance can help you with transportation costs, like subway or bus fare.
How Do I File an Insurance Claim for Tornado Damage?
If you have damage after a tornado, you should file a claim with your insurance carrier. You can usually do this by calling your insurance agency or the company's 800 number. An adjuster will be assigned to your loss and may come out to your home to review the damages.
This emergency weather radio is a must-have for any emergency situation. It not only receives the latest emergency weather forecasts from NOAA and AM/FM stations, but also has a 2000mAh battery that can provide emergency power to small tablets or phones. The bright LED flashlight and reading lamp can light up your surroundings, and the SOS alarm, external antenna, comfortable hand crank, and tap switch meet all your emergency needs.
The 2000mAh power bank ensures you never lose contact with the outside world. With four ways to power, including USB cable, hand crank, solar panel, and AAA batteries, you'll never run out of electricity.
This emergency radio also has two light sources, a 4 LED reading lamp and 1W LED flashlight, to provide timely help in the dark. The SOS function can also sound a loud siren and flashing light to draw attention and get help quickly.
This product has an 18-month warranty and 24/7 customer service. If you're not satisfied, they'll provide a solution immediately. Don't hesitate to purchase this reliable and essential emergency weather radio.
6 Types of Tornado Damage Covered by Homeowners Insurance
Wind and Hail
Wind and hail damage is typically covered under standard homeowners insurance policies. However, in Tornado Alley, it is common for insurance companies to require the purchase of a separate windstorm policy. Windstorm coverage might come with a separate deductible.
Wind-Driven Rain
Wind-driven rain is a type of precipitation that is driven by strong winds. This can often lead to damage to homes and other structures, as the wind can push the rain into cracks and crevices, causing leaks and flooding. Wind-driven rain is one of the most common types of tornado damage.
Mold and Water Damage
Mold is typically covered under standard homeowners insurance policies. However, water damage from flooding is not typically covered. If mold is present, it may be a sign of water damage, which would then be covered under the policy.
Fallen Trees
If a tree falls onto your house during a tornado, the first thing you should do is assess the damage. If the tree has caused structural damage to your home, you should contact your homeowner's insurance company immediately. Your insurance company will send an adjuster to assess the damage and determine if you are covered.
If the tree has not caused any structural damage to your home, but has damaged property such as your car or fence, you may still be covered by your homeowner's insurance. You should contact your insurance company to file a claim and an adjuster will come out to assess the damage.
If the tree is already dead and rotting before it falls onto your home, you most likely will not be covered by your homeowner's insurance. In this case, you will need to pay for any repairs out of pocket.
Debris Removal
Debris removal is the process of removing debris from an area that has been damaged by a tornado. This can help to prevent further damage to the area and to make it easier for people to access the area. Debris removal can also help to clear roads and paths so that emergency vehicles can reach the area more easily.
Food Spoilage
Food spoilage is the deterioration of food that makes it inedible. This can happen due to a number of factors, including power outages, flooding, and extreme weather conditions. Most homeowners insurance policies will cover some amount of food spoilage, though the coverage may be limited to $500 per occurrence. To be sure you're adequately covered, you may want to consider purchasing an optional food spoilage rider on your policy.