Earthquake Safety And Preparedness Tips
Your family needs to be prepared before an earthquake hits. Remember that unlike other natural disasters, earthquakes occur with little to no warning. Invest your time to make sure that you, your family, and your property is properly prepared.
You never know when an earthquake will strike. If you live in an area at risk for earthquakes, ensure that you have not only an earthquake kit but also a plan for you and your family.
The following list will help you understand what you should do before, during, and after the quake. You need to prepare NOW, before the next one hits.
Earthquake Preparation Tips
1. Contact Information: First, get together your contact information. Make sure you have a printed out copy as the power may be out and you might not have access to your computer or documents. Include names and telephone numbers, as well as out-of-town friends or family who might be able to help you. It's important to have an out-of-town friend listed because your friends who live in your town might not be able to help you if an earthquake affected them too.
2. Get Small Bills: When the power goes out, ATM machines won't work. Get plenty of one dollar bills because not many people will have change for twenty and hundred dollar bills. Try to aim for ones, fives, and tens.
3. Get Gas: Fill your gas tank. When the power goes out, gas pumps won't work.
4. Charge Your Phone: Charge your cell phone. Keep a spare charging cable to use in your car. There are some solar-powered cell phone chargers too which will be vital should the power go out.
5. Buy These Items: The following are items that could make a huge difference in case of an earthquake in your area. It's better to have these items and not need them rather than need them and not have them.
6. Document Your Valuables: Make a list and take pictures of your valuables. I know, I know… This is one of those types of jobs which is always on the "to do" list but never actually makes it onto the "done" list, but if you have an inventory of your valuables and possessions you are likely to be able to claim up to 20% more insurance than if you don't. Even people who are financially secure cannot really afford to replace all of their worldly possessions. If your home is hit by an earthquake and you lose your possessions and valuables, you're bound to forget all about some of the items you have lost. So bite the bullet and make that list!
Bonus Tip: Use your smartphone camera or video to take pictures of everything in your home. A home safety deposit box can protect your valuable papers.
7. Have a Plan for After the Quake: After the earthquake, get out of town until emergency services and law enforcement has gotten control of the situation. Unfortunately, like many other disaster situations, there are people who will try to take advantage of the chaos. It's best to avoid being in the disaster zone until things are under control.
8. Have a "Go Bag": Having an emergency bag packed with essentials (food, clothes, toiletries, cash, etc.) can save you time in a crisis. P.S. A little bit of toilet paper goes a long way…
Bonus Tip: If you evacuate turn off all utilities, including electric, gas, and water, to your home.
9. Have Your Medications: Make sure that you have plenty of your prescription medicines on hand. If an earthquake hits your city, the last thing you want to worry about is a medical emergency. Make sure that you have extra prescription medication containers available in plenty of time before an earthquake strikes.
10. Have Your Important Papers: Keep all special papers and photographs in a watertight container or plastic bag. You know, all of those important things like bank account papers, birth certificates, property deeds, medical cards, social security cards, etc. as well as photos and important keepsakes which can never be replaced. During a disaster, they could all be ruined and washed away forever in one whoosh!
11. Have a Food Stash: Make sure that you've got plenty of non-perishable food somewhere that can be accessed in case of an earthquake. Even though your town might try to help to supply food in the aftermath of a disaster, it's really up to you to make sure that your family and yourself have got plenty of food and drinking water available. Click here to learn more about what foods you should stock in case of an earthquake.
12. Have Batteries: Have batteries for all of your devices: cell phone, flashlight, radio, etc. Make sure you have the proper type of batteries for the right devices and, of course, make sure the batteries are charged!
13. Educate Your Family: Make sure that all of your family knows about your emergency earthquake plan, escape routes, where the emergency kit is stored, and what to do in case of a earthquake emergency.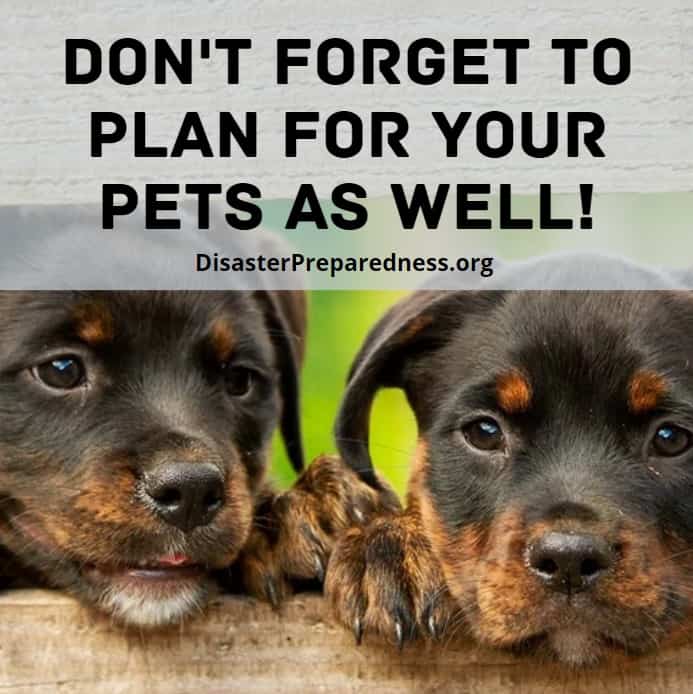 14. Have Camping Equipment: Obviously, tents and sleeping bags might not be the ideal accommodation but what if your home collapses or otherwise is uninhabitable? What if you're out of the earthquake danger zone but haven't quite made it to your alternative accommodation? Although emergency shelters are sometimes available, it's really a much better idea to make sure that you've got everything sorted out for yourself. Sleeping in a sleeping bag on the floor might not be ideal, but it sure beats sleeping on the floor without a sleeping bag.
15. Earthquake Insurance: Having earthquake insurance before the earthquake can help offset any damages before they occur. Check your homeowners' policy to see if you are covered for flooding as flood coverage is almost always an add-on coverage. Flooding is common after an earthquake as water mains get broken.
16. Plan for Your Pets: Many hotels and motels won't accommodate your pets, so if your plan is to evacuate to a hotel, then you'll need to find them a safe boarding kennels or cattery which is outside of the earthquake's impact zone. Additionally, keep extra food on hand as pet food may be hard to find or buy during a natural disaster. Here are some emergency pet food options.
This furniture safety strap set is made of heavy-duty metal cleats, wall brackets, and fasteners, as well as triple-stitched nylon webbing, and can support up to 400 lbs. These wall straps do not have any weak links in the form of plastic components or glue, making them reliable for anchoring furniture.
This product is ideal for securing antiques, collectibles, and other fragile items from falling. It works on almost any surface and is easy to apply due to its pliable texture.
These secure straps can be easily adjusted up to 21 inches long to hold bookcases, dressers, and other large furniture items upright. For added safety, use two straps for each item and three for taller or heavier furniture pieces.
Family Earthquake Safety Kit Checklist
Bottled Water (minimum of three gallons for each member of your family)
Battery-Powered Lantern
Basic Tools (utility knife, pliers, wrench, tape, compass)
Toiletries (toothbrush, toothpaste, contact solution, toilet paper)
Pencils and Paper
Pet Supplies (food, litter)
Rain Gear
Sleeping Bag
Change of Clothes
In case of an epidemic or pandemic during a disaster, consider including the following in your disaster kit:
Personal Documents: Make sure you have a waterproof container that you can stash the following in.
Identification (copy of driver's license or passport)
Insurance Policies
Birth Certificates
Marriage Certificates
Proof of Residence (copy of lease, mortgage documents)
Deeds or Wills
Tax Returns
Social Security Cards