Is YOUR Family Prepared for the Next Epidemic or Pandemic?
The next epidemic or pandemic can strike at anytime and anywhere. Is your family prepared? Do you have a family epidemic or pandemic home safety kit? If not, it's worth investing in. Additionally, it can help in cases of other disasters like tornadoes, earthquakes, or hurricanes.
Epidemic & Pandemic Home Safety Kit Checklist
Contact Information: First, get together your contact information. If you get sick, you might need to contact a doctor, hospital, or family member to help you. It's important to have an out-of-town friend listed because your friends who live in your town might not be able to help you if an epidemic or pandemic has infected them, too.
Buy These Items: The following are items that could make a huge difference in case of an epidemic or pandemic in your area. It's better to have these items and not need them rather than need them and not have them.

First Aid Kits: For $20, you can have medical supply basics — all in one place — and ready to use. It's possible that emergency services will be overwhelmed, so having a first aid kit is essential if you have a mild case of infection.
Emergency Water Filter: There's no need for an expensive filtration system. The LifeStraw Personal Water Filter has 5,000 reviews and is only $20! The LifeStraw "removes minimum 99.9999% of waterborne bacteria, 99.9% of waterborne protozoan parasites, and filters to 0.2 microns; surpasses EPA filter standards."

Have Your Medications: Make sure that you have plenty of your prescription medicines on hand. If an epidemic or pandemic hits your area, you may not be able to get your medications for a period of time.
Have Your Important Papers: Keep all special papers in a watertight container or plastic bag. You know, all of those important things like bank account papers, birth certificates, property deeds, medical cards, social security cards, etc. Additionally, have your medical records in an easily reachable area in case you need to be hospitalized.
Educate Your Family: Make sure that all of your family knows about your epidemic and pandemic plan, where the emergency kit is stored, and what to do in case one or more of your family members get infected.
Epidemic & Pandemic Items for Home Safety Kit
Think about stocking your safety kit with the following items in case of an epidemic or pandemic.
Hand Sanitizer & Cleaning Wipes: Alcohol-based hand sanitizer is imperative, even before anyone in your home is sick. Preventative measures are always better than reactive ones — that is, it's better not to get sick in the first place.

Clorox Healthcare Bleach Germicidal Wipe
Medline Micro-Kill Bleach Germicidal Bleach Wipes

Cold & Flu Medications: Many epidemic and pandemic illnesses have similar symptoms to a cold or the flu. Thus, it's important to have a stock of some cold and flu medications before you have a sore throat and cough.
Face Masks: Although the CDC doesn't recommend wearing a face mask unless you're already sick in most cases, it might be a good idea to keep a stock of them in case someone in your home gets ill in order to prevent infection.

Gloves: You may or may not find yourself needing gloves in case of an emergency quarantine, especially if you're caring for one of your sick family members who is infected with an illness. For this reason, it's best to wear gloves while interacting with them to help stop the spread of infection.
Epidemic & Pandemic Food Preparedness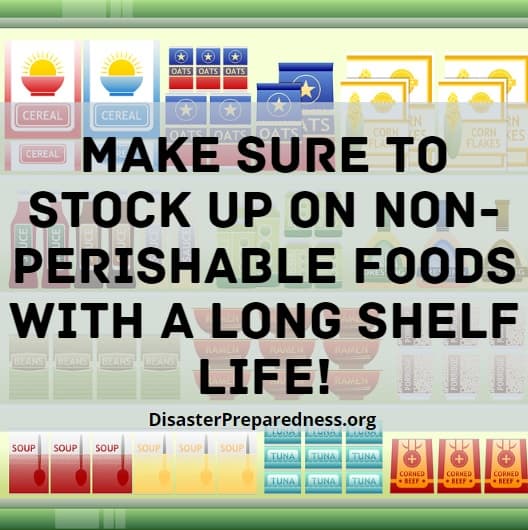 Make sure that you've got plenty of non-perishable food somewhere that can be accessed in case of a quarantine or lock down. Even though your town might try to help to supply food in the aftermath of a disaster, it's really up to you to make sure that your family and yourself have got plenty of food and drinking water available. In fact, it's good to have an emergency food supply in case of other disasters like earthquakes, hurricanes, and tornadoes.
If you aren't looking for a disaster food package, make sure you are stocked up on canned goods as they have a longer shelf life than fresh produce and meat.
Frozen and Canned Vegetables: Canned and frozen vegetables are best as they tend to last longer than fresh vegetables in case of a quarantine.
Frozen and Canned Fruits: Like vegetables, frozen and canned fruits last much longer than fresh fruits. If your diet plan allows you fruit, consider stocking up on some of the following:
Strawberries
Blueberries
Pineapple
Pears
Apples
Cherries
Beans: Canned and dried beans are easy to make and relatively cheap, making them easier on the wallet.
Nuts and Nut Butters: A great source of protein and fat are nuts and nut butters. They don't need to be refrigerated and can last a long while on the shelf.
Whole Grains: Grains half a relatively long shelf-life and can be cooked whenever you're having a hankering for pasta.
Soups: Having soup in your pantry is probably normal for many people but it can be even more important in case of a quarantine. After all, if you get sick you might get a hankering for chicken noodle soup!
Oils and Sauces: If you use oils to cook or season food, consider purchasing an extra bottle or two in case you have to stay home for a while. Additionally many people like having sauces to flavor their food so make sure you have your favorite sauce!
Olive Oil
Tzatziki Sauce
Curry Paste
Spices: Let's be honest… Sometimes those canned foods are just not as good as their fresh alternatives. Spices can help up the flavor factor!
Garlic
Rosemary
Paprika
Salt
Pepper
Cinnamon
Lemon Pepper
Long-Lasting Foods: If you're worried about the pandemic lasting for more than a few weeks, consider the following food items which have a longer shelf-life.
Bulk Dried Beans
Bulk Wild Rice
Bulk Peanut Butter
Beef Jerky
Dried Mangoes
Canned Tuna
Water & Liquids: Keeping a package of bottled water or a couple gallons of water on-hand is always a good idea, regardless if you're under a quarantine or not. You may also want to consider other liquids like Gatorade, Pedialyte, or other rehydration items.
Disaster Preparedness: Epidemic & Pandemic Safety Checklist
I know that the above might be a lot of information so here's a breakdown of what you need to do and be aware of to keep you and your family safe.
Epidemic & Pandemic Checklist
✔ Gather contact information in case you or your family members get sick.
✔ Purchase a first aid kit and an emergency water filter.
✔ Have enough of your prescription medications in case of a quarantine.
✔ Have your medical records on-hand.
✔ Have hand sanitizer and cleaning wipes, cold and flu medications, face masks, and gloves.
✔ Have food supplies to last at least a month in case of a quarantine.
Safety Item
This effective sanitizer eliminates 99.99% of germs and features a refreshing clean scent that evaporates quickly for convenient use when soap and water are not available.
Safety Item
Protect your hands from bacteria with the skin-friendly, durable, and ambidextrous Medpride vinyl single use gloves. Great for medical, industrial, and personal uses.
Safety Item
Protect yourself and your loved ones from harmful particles and allergens with this 100 pack of face masks.